During the upcoming year, we'd like to tell you about some of the members of the Lane Musicians Collective. First up is Chip Cohen.
Chip Cohen
has been fiddling for audiences across the U.S. since the 1970s. An Oregonian since 1984, he currently plays with the Klezmonauts, the Texas Toasters, and the Bohemian Dub Orchestra.
The Klezmonauts
play Klezmer, the exuberant music from the Jewish villages of eastern Europe with diverse roots from ancient Hebrew melodies to fiery Hungarian dances. The Klezmonauts add touches of their own backgrounds in jazz, bluegrass, Indian, African, and classical music, along with a healthy dose of spirited improvisation. Their new CD "
Klezmonauts Destroy Tsunami
" was recorded live at Tsunami Books in April 2013.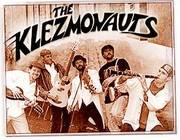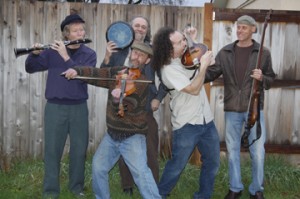 The Texas Toasters, a new band on the scene, has been making waves with their renditions of western swing, a fusion of country and swing jazz. Twin steel guitars, six-string guitars, bass, and fiddle keep 'em dancing.
The Bohemian Dub Orchestra is a 30-piece classical orchestra collaborating with popular local band Medium Troy to create a "psychedelic glitch-hop fantasia." They debuted on November 1, 2013 for an enthusiastic audience of 1,000 at the MacDonald Theater.
Chip also plays solo, showcasing his old time fiddling as well as an eclectic mix of Klezmer, Irish, original tunes and spontaneous compositions. He's been opening the first day of Eugene Saturday Market for 20 years running.
Chip is now working on his first music book "
Tall Tales and Twin Fiddles
," a collection of old time tunes arranged for two fiddles, with bogus history of the music. Sneak previews of the tall tales have elicited some serious belly laughs.
Tall Tales and Twin Fiddles
will be out in early 2014.
Upcoming shows for Chip include
:
December 15, 2013 - Klezmonauts CD release party at Tsunami Books
December 30 - John Prine sing along at Sam Bond's Garage
January 17, 2014 - Texas Toasters at the Axe and Fiddle
January 31- Texas Toaster at Sam Bond's Garage
February 28 - Texas Toasters at Drain Community Center
And of course, catch Chip at the April 5th opening day of Eugene Saturday Market. Contact Chip at drhorsehair [at] yahoo.com